The Future – Phase 2
Phase 1 is complete, turn-key It includes a fully equipped & furnished, luxurious lodge house; hand-built swimming pool; 2-1/2 miles of private, paved roads; a beautiful thatch-roof pier, secure dock, miles of hiking trails, cave exploration trails, fruit orchards, vegetable and flower gardens, and 24/7 on-site security. The cement & tile swimming pool has a surrounding deck made of exotic native hardwood, and is attached to a traditional, thatch-roof, fire-hearth "Mayan Kitchen".
Phase 2 of Last Frontiers calls for the addition of a residential development, a luxury waterfront lodge, more swimming pools, a restaurant, bar, and waterfront cabañas. We have architect's plans for these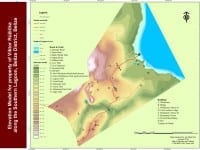 There are 870 acres at the mainland site. There also are 19.72 ocean beach acres on the nearby Caribbean Sea, 3-1/2 miles away by boat. The overall development footprint is light. The intent here is to enjoy one of Earth's unique last frontiers – without adversely effecting this pristine environment.  A world-renowned tropical resort architect firm was contracted ~ their carefully-designed & executed plans allow for luxury accommodations and smooth operations, with deep respect for the surrounding natural and cultural environments.
Last Frontiers is totally off-grid. All power & water comes from the sky, with enough for air-conditioning, laundry, a modern kitchen, and a workshop. What resorts or retreats have you stayed at who can claim this?