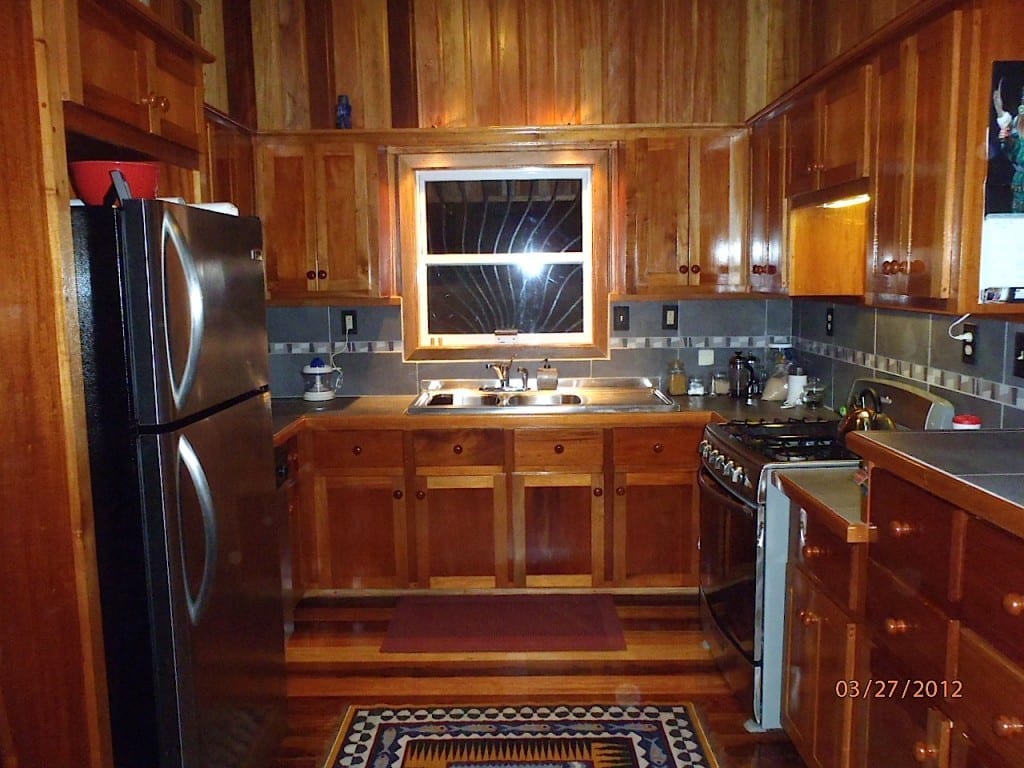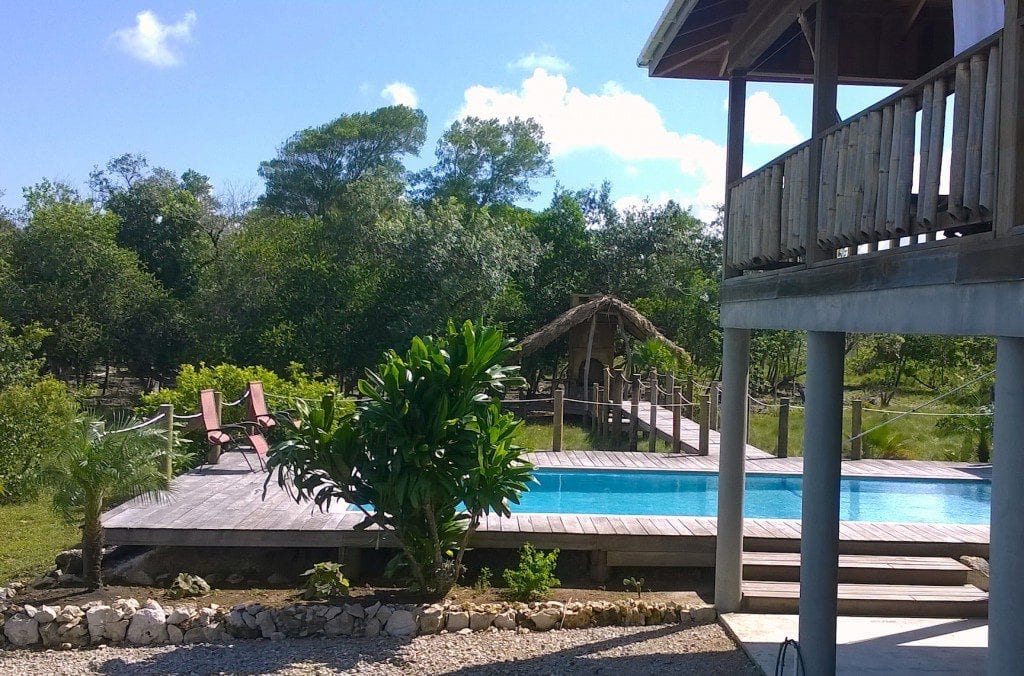 Our self-sufficient, 3-bedroom lodge was built in 2010. It features breathtaking panoramic views of the surrounding Maya Mountains and the seaside Southern Lagoon from its wrap-around verandas. Interior details include a great room with native hardwood flooring and walls, with 18ft-high vaulted ceilings made of polished mahogany and local hardwoods. It is served by a well-equipped modern kitchen. The main elevated living level is 2,100 sq. ft. under roof, and the lower level (also 2,100 sq. ft. under roof) has an enclosed laundry room; a power/workroom with computerized controls for the power system; and an open concrete pad for sheltering boats and vehicles under the house. Within 3G cellular coverage, we also enjoy line-of-sight broadband internet service.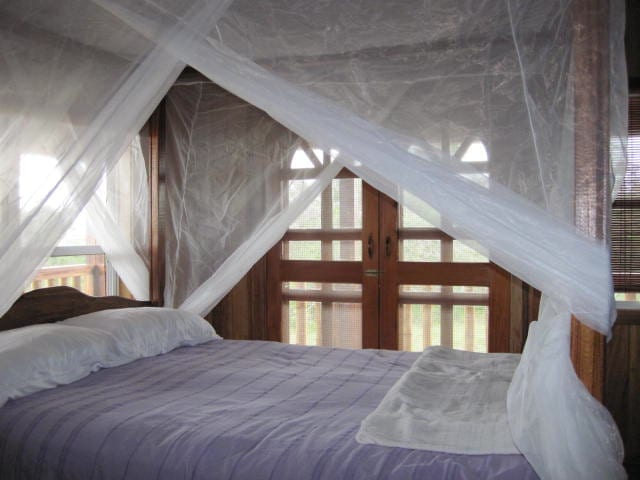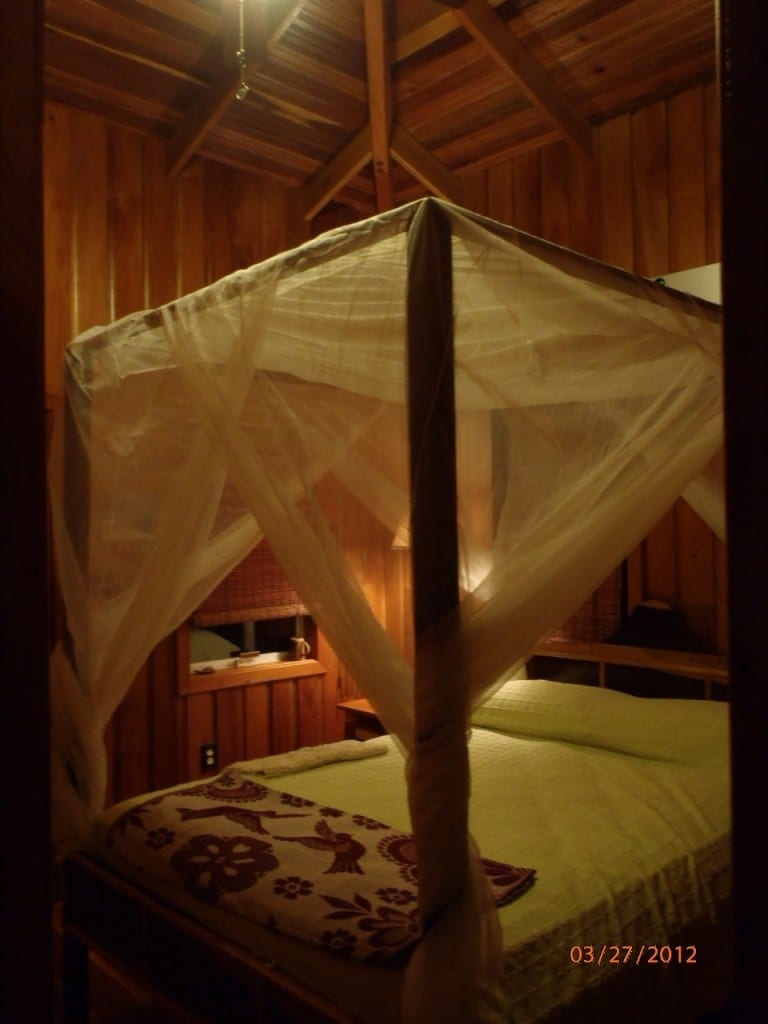 Each bedroom has a private en-suite bathroom crafted of local hardwood and custom tile, and a private exterior entry onto the wide veranda. The veranda floors are made of native cabbagebark, and the balusters are custom bamboo, harvested nearby. There are two spacious outdoor showers with bamboo baluster walls next to the pool.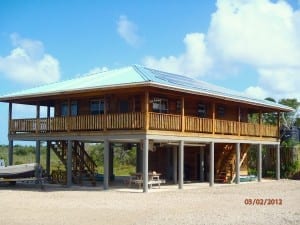 All electricity & water comes from the sky! The robust solar & wind power system provides enough 110v and 220v electricity for all daily household power requirements, including air conditioning. This coastal area gets 80+ inches of rain per year, which is ample to supply household water, harvested from the roof into a series of large, easily-cleaned water tanks, then into a filtered, pressurized water system, with well back-up. Freshwater creeks flow year round through and around the property.
Our plant nursery is made of local bamboo with wire mesh and netting. In here we start our fruit trees and grow kitchen vegetables, melons, herbs and flowers, nourished by kitchen compost and rainwater. Our many chickens provide meat and eggs. The surrounding estuary and Caribbean Sea yields delicious seafood, including red snapper and snook.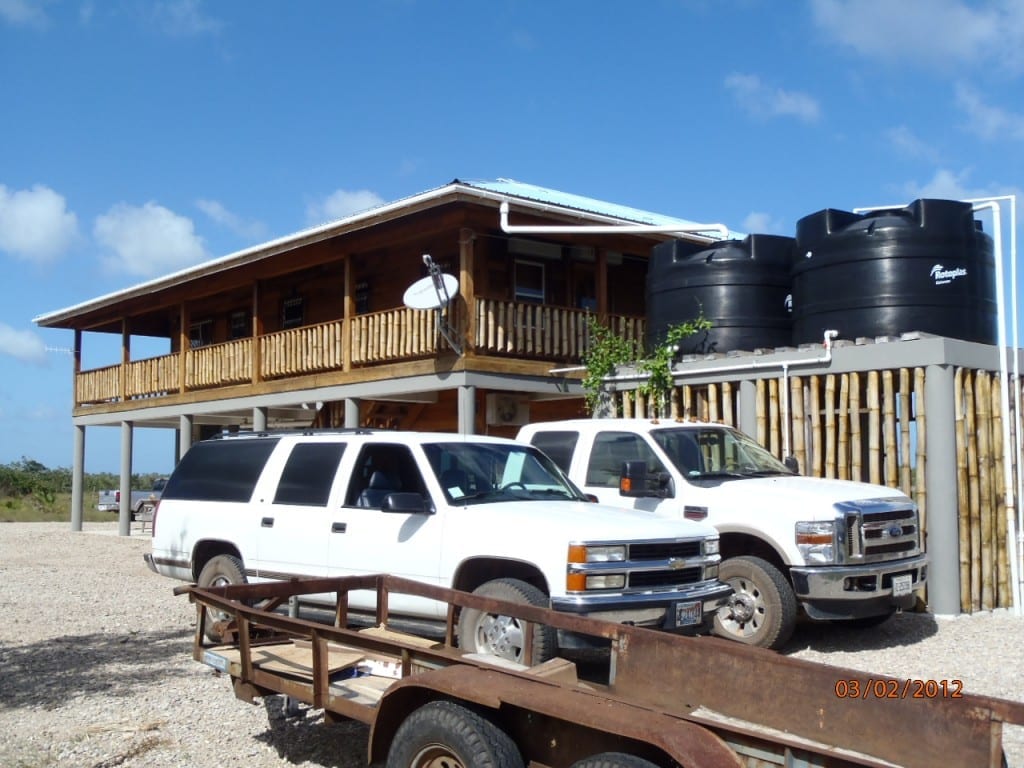 This location also benefits from a consistent Caribbean breeze of about 10-13 knots to drive a marine grade WhisperJet 200 Wind Turbine mounted on a 60ft communication tower, capable of generating an additional 2,000 watts of electricity. The centerpiece of Last Frontiers Lodge's 72v power system is an array of 62 solar panels (rooftop and ground array), with 24 deep cycle batteries, and a computerized double-inverter system. Backup is an automatic 2kW propane generator, although the backup system is rarely needed.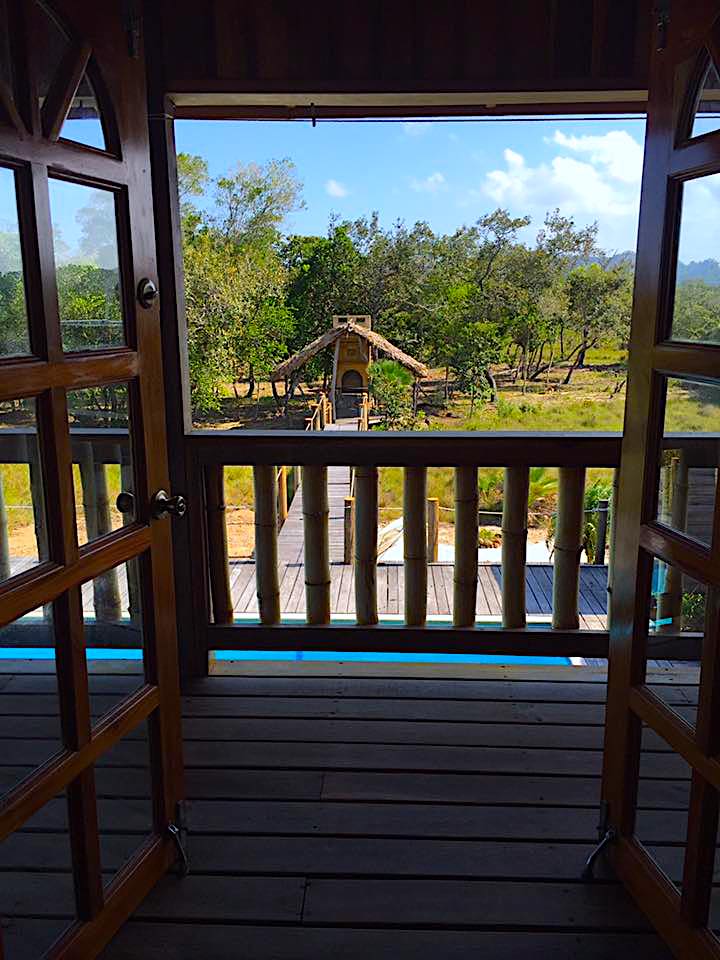 This lodge house is strategically located within our 1,800-acres along a 2-1/2 mile private, paved road which leads to a private waterfront. The waterfront extends for 2 miles along the exotic Southern Lagoon. Placed strategically are two, 2BR watchmen/ maintenance staff houses, also powered by off-grid systems. With gated entry at the Coastal Road, 24/7 on-site security, and monitored docks on the Southern Lagoon, the house and property are safe and secure. Our staff is military and embassy trained, and can teach you about the ecology, the flora and fauna of the area.
We are in the process of adding several comfortable cabanas with a separate kitchen for our friends and guests. This spectacular property has numerous other building sites for waterfront cabanas, private residences, or a commercial resort, accessible be paved, private roads.
The waterfront area now has a 136-ft wooden pier with a Mayan-built thatch palapa roof, extending into the Southern Lagoon from a picturesque sand beach with sea grape, coconut palm, calabash and other hardwoods. This pier is our "welcome dock" for visitors who arrive by boat, and it is our early-morning staging dock for tarpon fishing trips. A working 52 ft dock with boat launch is secure inside "Crocodile Creek", adjacent to the waterfront area. From these docks, the Caribbean Sea is a few glorious minutes away via the wild and scenic – but short – Manatee Bar River. Belize City is 90 minutes away by boat or vehicle, while the extensive, mountain-ringed Gales Point Wildlife Sanctuary surrounds us on our waterfronts.
Fruit & vegetables are grown on-site, and other produce is purchased from subsistence farmers in the area. We grow many mango trees, also cashew, orange, grapefruit, lime, plantain and banana trees. Melons and vegetables are grown on site, especially in the Bamboo Nursery. There are thousands of orchids and bromeliads growing wild, and flowering bushes and trees of every description.