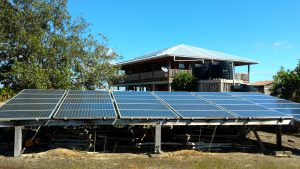 Last Frontiers Activities:
Jungle Boat from & to the airport
Upon arrival at the international (BZE) airport, you can be picked up and transported by boat through some of the most beautiful and wild jungle rivers and waterways imaginable. Through the wide, remote Northern Lagoon, and across the exotic Southern Lagoon – bounded on the west by dramatic hills and on the east by a narrow isthmus separating our Southern Lagoon from the Caribbean Sea. You will want to have your camera unpacked for this memorable journey. Flocks of white ibis birds rise from the water as we pass. Kingfishers of all sizes, parrots, and brilliant jungle birds can be seen, along with monkeys and crocodiles
Helicopter Transport
Helicopter service can be arranged from the international airport to our lodge, a very short flight over coastal Belize.
Private or Chartered Aircraft
A paved, licensed, jungle airstrip is nearby that can handle any aircraft licensed to fly in Belize.
Guided Jungle River Estuary Trip
Travel the exotic Southern Lagoon and up the wild Manatee River and Soldier Creek watershed by boat. You will learn about this pristine wild ecosystem, and how artisans, subsistence fishermen, and traditional communities coexists in this rich estuary system. You will see many jungle birds, and if you are lucky, a Morlets crocodile or two.
Early Morning Jaguar Ride
Big cats —  puma, jaguar, and ocelot — live in-the-wild and on-site here at Last Frontiers. They can sometimes be seen and heard in the early morning and sunset hours as they hunt along creeks and jungle pathways, or relaxing in the afternoon shade on the beach. Fresh tracks are often visible. Take a quiet, early-morning stroll or bike ride to learn about their habits. But don't worry, these shy creatures will avoid you.
Maya Mountain Cave Tour
Come with us on a hike along our national-park-quality Cave Trail to the vine-covered mouths of the spectacular cave systems extending under our jungle hill. Bring flashlights and go spelunking through this cavern system. You will see blind fish swimming in streams, bats, stalactites and stalagmites. You will see ancient Mayan artifacts. You will learn the geology of Belize's limestone hills, and hear about how pre-Colombian people once lived here and used the caves in this area.
Savanna Trail Hike
Explore the wide savanna, hiking or biking from the high-canopy jungle hills, to the seaside lagoon beach.
Mayan Ruins Day-Trip
Visit several famous, developed, off-site Mayan Ruins, including Xanatunich and Caracol, with experienced, professional guides. You can also hike to a little known, undeveloped Mayan ruins nearby, in the jungle near our property by Black Lagoon. These are all day-trips, except fabled Caracol, which will involve overnight stays at a luxury resort deep in the Chiquibol Mountains.
Fresh Water Fly Fishing
The many freshwater streams entering our vast estuary system offer an amazing variety of fishing opportunities to the adventurous fisherman, in private or accompanied by an experienced guide. You can fish Soldier Creek, Manatee River, and if conditions are right, fish the pure whitewater of Quamina Creek. Have you ever caught freshwater Tarpon? You will!
Tarpon Fishing – Our Specialty!
Tarpon is what our Manatee/ Southern Lagoon area is known for. Just offshore is where the big tarpon cruise. There is nothing more exciting than hooking one of these big boys and watching it dance on top of the clear Caribbean!
When the tide is right, the tarpon school and cruise up the Manatee Bar River, leaping and feeding on the way up and back down the river. Sometime, as we cast for tarpon, hundreds of rays glide in a surreal tapestry under the boat as they follow baitfish up and down this pristine waterway.
The Southern Lagoon offers some of the finest "baby" tarpon fishing in the world. With the expert guides from the village, you can find these coveted, catch-and-release game fish in the lagoon, along the mangrove, as well as several miles up the wild jungle rivers feeding this rich estuary ecosystem. Also thriving in these waters are barracuda, jack, snapper, snook, and many other saltwater gamefish species, depending on tidal conditions. For the most part, we ask that your fishing be catch-and-release, because this area is a safe haven for rare and endangered species.
Permit Fishing
Way back in one of our back bays is where the wily Permit hide. Your guide will quietly pole the skiff on these clear flats ringed by savannas and mountains, but it is up to you to make your presentation to these finicky eaters. You better get it right the first time because these curious fellows spook easily. Permit fishing is catch-and-release.
Reef & Flats Fishing
Ten miles offshore the MesoAmerican Barrier Reef begins, the worlds second largest barrier reef, and one of the world's few healthy reef systems. Fish crystal-clear Caribbean coral reefs, or wade knee-deep casting for bonefish and permit. Have you ever been up to your knees in bonefish?
Snorkel the Reef
These same coral reefs, stretching 185 miles from Yucatan to Honduras, are strung like pearls across the sea. These beautiful islands offers what National Geographic Adventure magazine recently called, "this planet's best reef diving and snorkeling". These vibrant reefs are clear and shallow, and a day of snorkeling will immerse you in brilliant worlds of wonder. Belize has 4 of the only true "coral reef atolls" in the western hemisphere.
Canoe & Kayak the Black Lagoon
From Last Frontiers' pier, take a canoe or kayak across the Southern Lagoon and into the Black Lagoon, through a channel surrounded by a mangrove tunnel, and into seldom-visited Black Lagoon, so-called because of the dark tannin colour of the water flowing into this picturesque 7-acre lagoon from Black Creek out of the Maya Mountains. Bring a packed lunch, a camera, and your fly rod.
Kayak & Swim Soldier Creek
From the giant limestone rock formation by the Coastal Road bridge, we can bring a picnic lunch and explore crystal-clear, freshwater Soldier Creek as it flows from the Maya Mountains, through verdant jungle toward the sea. See flocks of ibis, aracari, parrots – and possibly manatee and river otter.
Hike the Black Orchid Trail
The exotic Black Orchid, Belize's national flower, grows in wild abundance here, along with a huge variety of wild orchids and bromeliads. Our superb "Black Orchid Trail" follows Jenkins Creek as it meanders under the rainforest canopy for almost 2 miles. See huge mahogany and other tropical hardwood trees, and you will likely encounter Howler Monkeys, Aracari, Curassow, Toucan and many other tropical bird species. If you are quiet, you may spot some of out Tapir and Peccary. The big cats are shy, but sometimes can be seen at dawn and sunset, as they hunt along the beach, creeks, and savannas.
Explore Los Tigres Hill
Hike the hills amidst giant, flowering hardwoods, listen to macaws and howler monkeys, and help us identify a delicate, luscious-smelling, vanilla-colored orchid living high on the hill. With a guides, you'll follow well-marked, well-maintained trails over and around the exotic "karst" hills, the dramatic limestone hills and cliffs that form the rugged foothills of the Maya Mountains. In this part of Belize, the Maya Mountains come closest to the Caribbean Sea. These hills are characterized by lush high-canopy jungle, vine-covered cliffs, extensive cave systems, and an incredible variety of birds, butterflies, animals, flowers, and plant life. Take a break on several dramatic look-out points, where you can see panoramic views of the entire region and the Caribbean Sea.
Sambai Drumming & Dancing
Gales Point Village is a few miles away. Here traditional drumming has been passed down for generations, all the way back from mother Africa. Join in and learn the rhythm with local drummers, also learn about traditional drum making craft, using local trees such as coconut, bamboo and mahogany, and deer-hide. This is a must for musicians and those who enjoy interesting cultural experiences.
Caribbean Beach Bar-B-Q
Relax on our private sandy beach and play in the gentle Caribbean surf for a beach Bar-B-Q with cold beverages. Boat to our secluded and private 20-acre ocean beach with a delicious picnic meal. Here you can relax as long as you like in the sand, swimming, surf fishing and exploring in complete privacy.
Belize Zoo Visit
The Belize Zoo is a must for visitors to Belize. Visitors will learn about Belize's indigenous birds, animals and plant life. See all seven of Belize's big cat species in their natural habitat, a Harpy eagle, and many other other unique animals living in this amazing country. (link to http://www.belizezoo.org/)
Bush Farm Tour
You will be amazed by the abundance of a lush, local subsistence farm. Learn from the farmer about life in this deep back bush, and the variety of fruits, vegetables, herbs roots and flowers grown for food and for trade. Many of their organic fruits & vegetables end up in our kitchen.
Manatee Watch
The largest population of West Indian Manatee in the world thrives here, in the vast Southern, Western and Northern Lagoons, and within the Manatee Bar River that flows into the sea. You can work with scientists from around the world and wildlife officers to monitor and tag these gentle giants.
Hawksbill Turtle Watch
As endangered Hawksbill Turtles come into the lagoon to nest, join a team of scientists and scholars tracking their movements and protecting their nests.  Our nearby Caribbean beach is, "the most important Hawksbill Turtle hatching ground in the western Caribbean". So say visiting scientists.
Cave Tubing
A national park about 25 miles away offers river tubing on the Caves Branch River, where you will follow the gentle river flowing through huge limestone caverns.
Mountain Bike Trails
We have miles of mountain bike trails traversing our 870-acre mainland site, through the jungle and along the beach. You can bike through dramatic jungle trails to Gales Point Village, 5 miles away, and relax at Mr Gentle's Cool Spot, or learn about the Creole and Maroon culture in this remote fishing village.
Hummingbird Highway Tour
Take a motorized daytrip up what many have called, "the most beautiful highway in the world". Visit national parks and waterfalls, and become immersed in the incredibly varied and rich cultural and physical landscape of Belize.
Night Sounds
At night you will hear more than just soft lapping of the waves on Last Frontiers' beach. In the early evenings you might hear ancient drum rhythms from the village across the lagoon. Jungle birds, and whip-poor-will call in the night; fierce-sounding howler monkeys roar from the tree tops. And you are very likely to hear "los Tigres", the big wild cats of Last Frontiers Belize, as they hunt the deep jungle and call across the moonlit savanna to each other.
Naturalist Tours & Talks
Licensed naturalists and local experts on manatees, jungle birds, endangered turtles, big cats, and subsistence farming can conduct entertaining discussions and guided tours.
[
Top
]  
Contact Us
for more information…